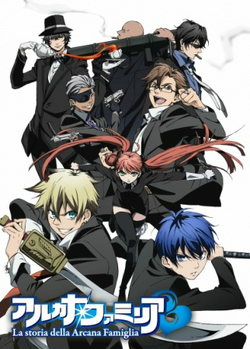 Arcana Famiglia (アルカナ・ファミリア, Arukana Famiria, The Story of the Arcane Family), is an anime series based off of the game series of the same name. The series debuted on July 1, 2012, running for 12 episodes with one OVA released in 2013. There are no plans for a second season.
The anime was acquired by Sentai Filmworks in 2020, with plans to feature the episodes on digital outlets in 2021. These might include iTunes, Netflix, Hulu, and Amazon.
Summary
The Arcana Famiglia is a self-appointed organization with mysterious powers that has protected a small Mediterranean island from pirates, foreign countries, and other threats. The only daughter of the family's head, Felicità, will be married to the next head of the family in two months — and the successor will be decided in a competition that Felicità herself will take part in.
As Felicità herself and other friends and colleagues wait to begin the competition, they reminisce about old times, perform good deeds for the townsfolk and continue to hone their Arcana skills.
Summary from Sentai Filmworks:
Things are NOT going well for Felicitá. For years, the island of Regalo, has been protected by her father's "organization," the Arcana Tarroco, whose success is due in no small part to the members' unusual skills with Tarot Cards, not to mention the usual guns and knives. But now, unexpectedly, her father has decided to retire and, while the fact that his position will be filled by the winner of a series of duels doesn't worry Felicitiá, the fact that he's decided to throw HER into the contest as part of the prize certainly does! Especially since some of the contestants are her cousins, which is keeping things WAY too much in the family!
Fortunately, our lady shark has two aces up her sleeve: as the head of the Swords division, she's eligible to compete for herself, and with her favored Card, The Lovers, she can snoop into the minds of her would be suitors/rivals! It's just too bad they have their own card tricks! Roll the Batchelorette, the Sopranos and that crazy Gypsy from the fair into an insane anime calzone, half-bake thoroughly and you've gotta lotta spicy mayhem ahead in LA STORIA DELLA ARCANA FAMIGLIA!
Episode List
Trivia
In contrast to the manga, the anime primarily focuses on Felicità's relationships with Nova and Libertà. The anime does not focus as much on the romance genre as the manga and games do.
There are four music tracks associated with the anime, including Magenta Another Sky and Pieces of Treasure.