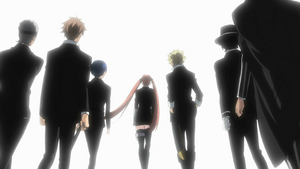 Arcana Famiglia (ファミリア, Arukana Famiria, Arcana Family) is a vigilante group and the self-appointed government as well as the protectors of the island Regalo.[1][2] The Arcana Famiglia consist of five divisions.[3]Above them is the Executive Chief along with two other right-hand men who are responsible for the top decisions as his 'advisors'.[4] The "Arcana" in the Family's name is referring to the Arcana cards of the tarot.
Overview
The Arcana Famiglia is split into two main groups: Major and Minor Arcana. 
The Major Arcana members are ranked here, in order of importance in the Family:
Boss
Family Advisors
Chief Executive
Deputy Chief Executive
Sub-division heads
Other Major Arcana members
(The boss's spouse is given a great deal of respect as well, but has no clearly identifiable space in the chain of command.)
The Minor Arcana are ranked below and are sorted among the sub-divisions according to their card suit. Presumably, they are ranked within these subdivisions according to the rank of the card they hold. 
Sub-Divisions
There are five Sub-Divisions in the Arcana Famiglia Government. Each is headed by one of the Major Arcana members. The Intelligence Division is the only subdivision without Minor Arcana members. 
Technology
References