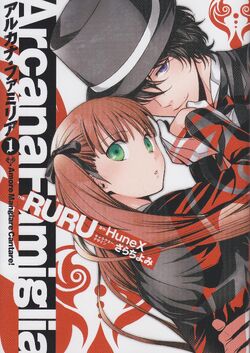 Arcana Famiglia - Amore Mangiare Cantare! (アルカナ・ファミリア, Arukana Famiria, The Story of the Arcana Family - To Love To Eat To Sing!) is a manga series based off of a game of the same name. It is written by HuneX and illustrated by RURU. It is published in the manga magazine, Sylph. It follows the story of the Arcana Famiglia.
Arcana Famiglia is a self-appointed organization with mysterious powers that has protected a small Mediterranean island called Regalo from pirates, foreign countries, and other threats. The only daughter of the family's boss, Felicità, will be married to the next head of the family in two months — and the successor will be decided in a competition that Felicita herself will take part in.
The manga was released in December 2011 with four volumes spanning 26 chapters, as well as two anthologies, Amore and Ciao.
The chapters are titled by the corresponding ordinal number in Italian.
Chapter List
Edit
Community content is available under
CC-BY-SA
unless otherwise noted.