The foods of Regalo that appear in the series are listed here.
The majority of these are foods that originated in Italy.
Baci di dama
Edit
Baci di Dama
Baci di dama/dolce, appeared in Episode 3 of the anime on the day of the Piccolino.
The name baci di dama is Italian for "Lady's kisses" and are hazelnut cookies filled with dark chocolate. These cookies originate from Piedmont, a region in northwest Italy. Dolce is the Italian word for pastries.
Luca made baci di dama for the Piccolino snack time. Luca had to set up a trap for Pace, in order for him to not eat all of the dolce while sleepwalking, which Luca explains has happened one time before.
Cannoli
A classic Sicilian treat, cannoli are crisp pastry shells filled with a sweet cream containing ricotta.
Appeared in Episode 7 of the anime, when Pace, Debito and Felicita with Luca to help harvest his herbs. It's assumed that Luca made the cannoli.
To Pace, this is a morning snack.
Chickpea Soup
Edit
Chickpea Soup
(ヒヨコ豆スープ,
Hiyoko mame sūpu
)
It's seen in Episode 5 of the anime.
It's nutritious & delicious.
Taught by Luca, Felicita made this for Nova as a token of her thanks, for all that he has helped her.
Nova was shocked when the found out the name of this soup. Because, his nickname by Liberta is Chickpea.
Lasagna (ラザニア, Razania, Lasagna)
Lasagna, first appeared in Episode 1 of the anime.
Pace's favorite food. He loves to eat it every day.
Milk. Luca offers to make Felicita this to help her sleep.
Limonata
(リモナタ, Rimonata,
Lemonade
)
First appeared on Episode 2 of the anime. Luca was making this for Felicita.
Limone Pie
Edit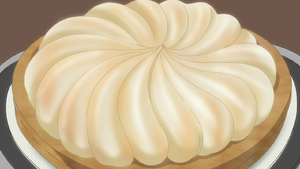 Limone Pie リモーネパイ, Rimone Pai, Lemon Pie)
Limone Pie, first appeared on Episode 5 of the anime. The Arcana Famiglia members kept on commenting how small Luca made it.
Pace wanted more & he unleashed his fearful side to Luca, forcing him to make more Limone Pies.
It's said by Dante that Limone Pie is so good that it holds its own against the ones sold in specialty shops.
Felicita used to had tea time with Nova, Sumire & Mondo , while eating Limone Pie.
Felicita made Limone Pie with the help of Luca when Nova first came & meet Sumire, Mondo & Felicita when they were younger.
A classic Italian dish. Seen in Episode 4 of the anime in
L'Osteria
.
Community content is available under
CC-BY-SA
unless otherwise noted.